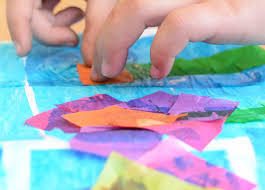 Art and craft provides each child with self -expression, fredom to discover, experiment, and explore the properties of each medium. It presents children of all ages with enjoyment, releses tensions, agressions and provides opportunities to experience a variety of materials -some out of context.
Art and craft encorages children's imagination and stimulates their language development . It also develops creative thinking and expression. It promotes self-awareness, self-appraisal and achievements , as the child is able to produce an end product to show and take back home.
Art and craft activities foster tastes and personal prefrences. There is no right or wrong way to use the materials and promotes freedom of choice. Children get clear perception of shape, texure , spatial relationships. It also has scienfitic learning - consistences, colour mixing, effects of other materials. Art and craft is avenue of expression and sensory experience. Promotes decision making choice , independance, self - appraisal. It also produces to equipment such as brushes, glue, scissors, spreaders, etc. Creativity arises in many areas not just by using paints and glue.